China Matters Oration with the Hon Dr Kevin Rudd AC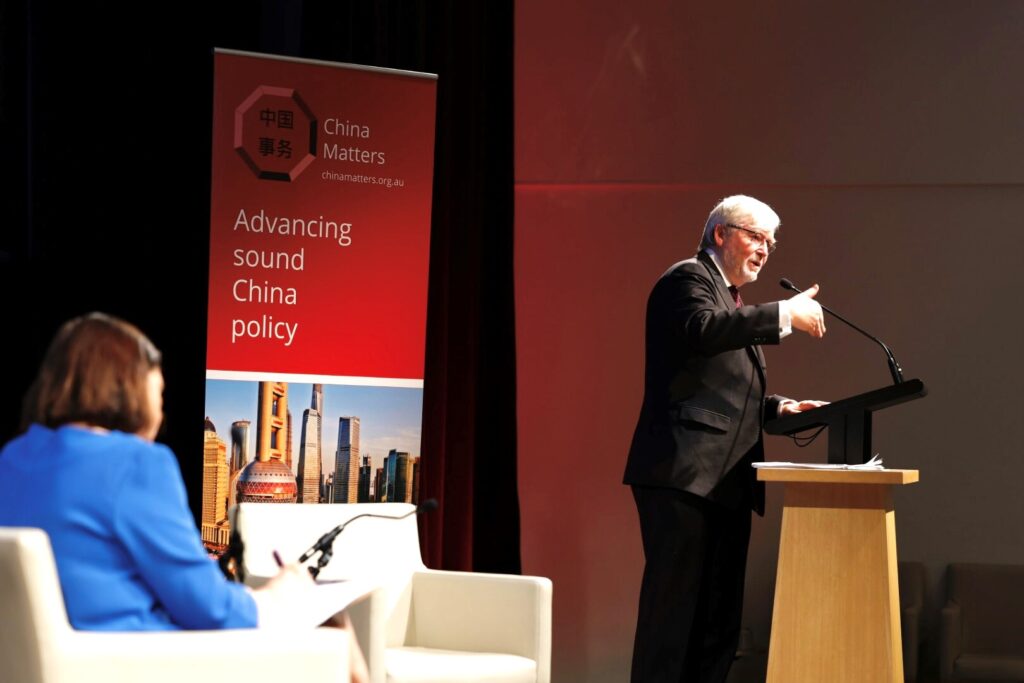 China Matters and the University of Queensland were pleased to host the inaugural China Matters Oration delivered in-person by the Hon Dr Kevin Rudd AC in Brisbane on 15 February 2023.
Read the written China Matters Oration text here and the text of the moderated discussion between Dr Kevin Rudd and Ms Linda Jakobson here.
Read the introductory remarks by Mr Peter Varghese AO here and quotes from the Oration here.
Dr Rudd, a leading global authority on China, discussed both the trajectory of the PRC during President Xi Jinping's third five-year term and the implications of the PRC's developments for Australia and the rest of the world.
Mr Peter Varghese AO, Chancellor of the University of Queensland, presented the opening remarks. Ms Linda Jakobson, Founding Director of China Matters, moderated the event.
Watch a recording of the Oration and moderated discussion below.

Previous events: Rethinking China
China Matters' Sydney Lecture Series Rethinking China features speakers of diverse expertise and background with the aim to inject breadth and depth into the public discussion about the People's Republic of China (PRC).
Each Rethinking China speaker is asked to describe how they see China; why they see China the way they do, and on that basis share their thoughts on what Australia's approach to the PRC should be.
Watch past events below

China Matters Oration with Kevin Rudd, 15 Feb 2023, State Library of Queensland
Rethinking China with Yun Jiang, 5 May 2022, PwC Australia
Rethinking China with John Yu, 16 March 2022, PwC Australia
Rethinking China with Louise Edwards, 9 December 2021, PwC Australia
Rethinking China with Stan Grant, 26 May 2021, Museum of Sydney
Rethinking China with Jason Yat-sen Li, 21 April 2021, Museum of Sydney
Rethinking China with Linda Jaivin, 24 March 2021, Museum of Sydney
Rethinking China with Bill Birtles, 24 February 2021, Museum of Sydney