AIIA China Matters Fellowship

Policy research report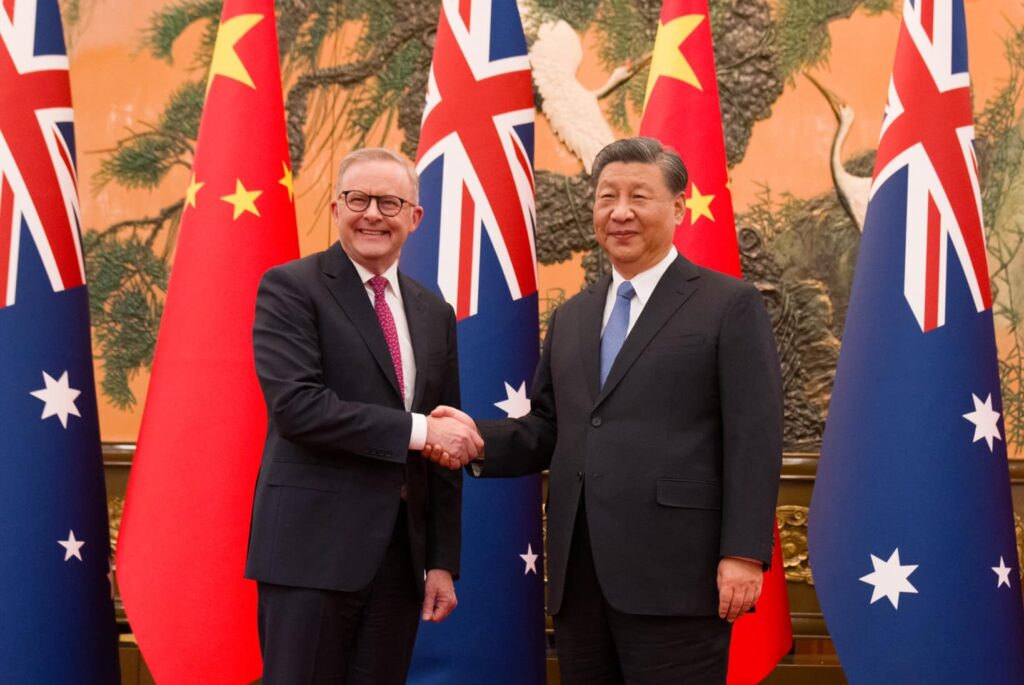 In her final policy research report, Ms Yun Jiang, AIIA China Matters Fellow, assesses the long-term prospects for the Australia-PRC relationship.
With the first visit to the PRC by an Australian Prime Minister since 2016, the Albanese Government has successfully stabilised the bilateral relationship in just over a year. But can this stability continue? What factors could derail it?
In her report, Yun explores the perspectives of academics and analysts in the PRC on the underlying long-term challenges for the bilateral relationship. She examines perceptions of power, the importance of emotions, and the prioritisation of national security.
Taken together, these trends make maintaining a stable bilateral relationship an ambitious task.
Read the full report here.
Report launch at Parliament House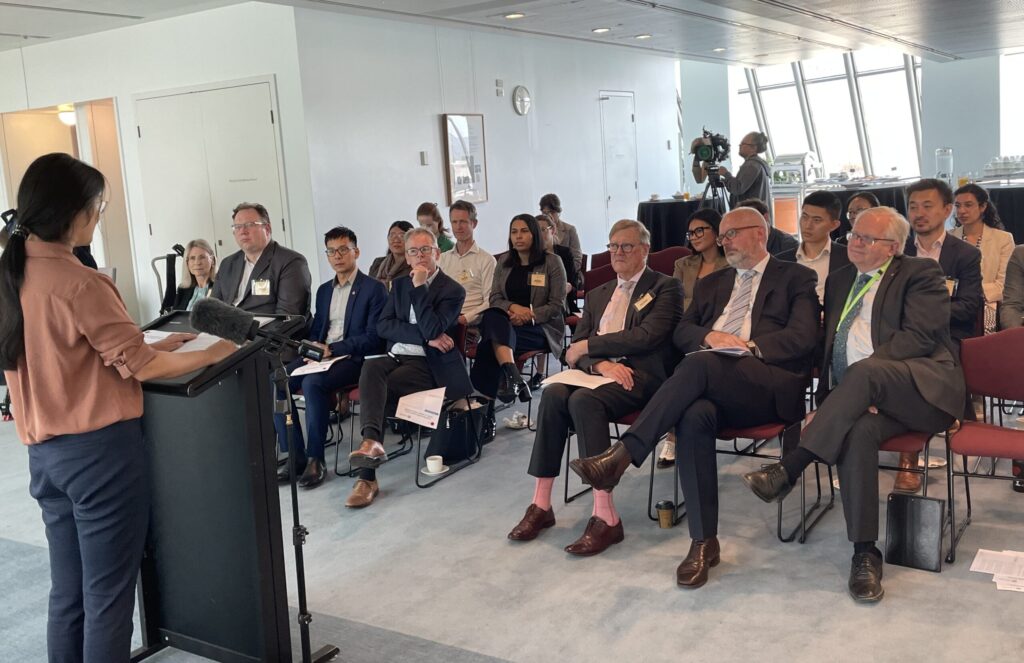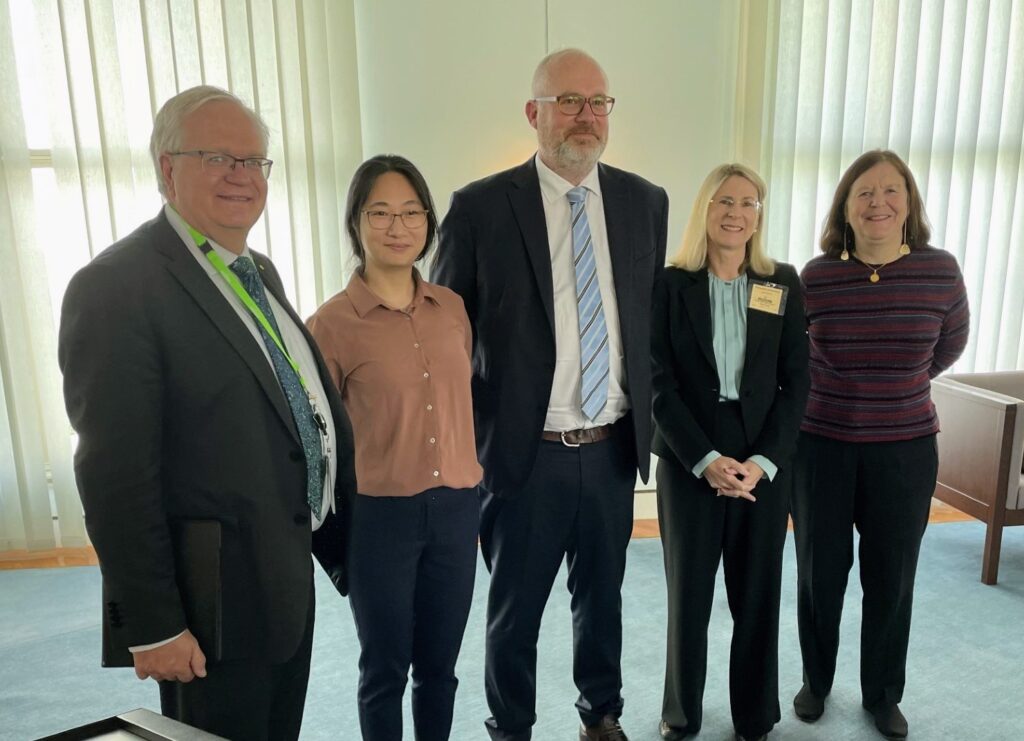 AIIA and China Matters jointly launched the report "Can Australia and China have a stable relationship?" with a breakfast event at Parliament House, Canberra, on 8 November 2023.
We are thankful to Assistant Minister the Hon Senator Tim Ayres, Vice-Chancellor of the Australian National University Professor Brian Schmidt, AIIA National President and Board Director Dr Heather Smith, and China Matters Founding Director Ms Linda Jakobson for their remarks.
AIIA China Matters Fellow Ms Yun Jiang spoke to her report and answered media questions.
Announcement
The inaugural AIIA China Matters Fellow is Ms Yun Jiang.
Ms Jiang was the co-founder and former editor of the newsletter China Neican, and a managing editor of the China Story blog. She has published and been cited widely on China-related topics, with a focus on Australia's policies on the People's Republic of China (PRC).
She is a former researcher in geoeconomics at the Australian National University and a former policy adviser in the Australian Government, having worked in the Department of the Prime Minister and Cabinet, the Treasury and the Department of Defence. Her policy experience covers economics, national security, and foreign policy.
Read the media release here. Read FAQ here.
The AIIA China Matters Fellowship is an investment in the next generation of Australian China specialists. The Fellow, appointed for a two-year term, will publish well-researched and publicly accessible reports on developments in the PRC which are especially relevant to Australia. She will regularly publish opinion pieces in mainstream media and contribute in other ways to the public debate about the PRC and Australia-China relations.
The Fellowship is funded entirely by donations from Australian citizens and from wholly Australian-owned and -controlled companies or foundations. For a list of founding donors and supporters click here.
Recent Activities
Commentary 
Securitisation challenges stabilisation in both China and Australia
Asia Society Australia, October 2023
Stabilisation – a low ambition word – describes the Albanese Government's general approach to Australia's relationship with China. Aiming for higher ambition in the bilateral relationship is challenging due to expanding securitisation in both countries.
---
Commentary
Usual suspects: Our China-obsessed approach to foreign interference is self-defeating
Australian Foreign Affairs, October 2023
Yun Jiang analyses Australia's approach to addressing foreign interference and its consequences.
---
Commentary
The Fix: Getting a read on China
The Interpreter, 18 October 2023
I was in China last month, the first time in nine years. And China after nine years is a completely different country.
---
Webinar
The New Domino Theory: Does China really want to attack Australia?
The Australia Institute, 17 October 2023
---
Commentary
China, Xi Jinping messaging out of step with experience of diaspora
The Canberra Times, 26 August 2023
Trade and investment ties between the People's Republic of China and other countries, particularly Chinese foreign investment through the Belt and Road Initiative, are often seen as a cornerstone of its expanding global influence. However, in countries such as Indonesia, it has also contributed to anti-PRC and anti-Chinese sentiments.
---
Policy Research Report Launch Webinar
The PRC's approach to Indonesia: Competing for regional influence
16 August 2023
---
Policy Research Report
PRC's approach to Indonesia: Competing for regional influence
August 2023
This report answers the question, how should Canberra see the increasing close relationship between the PRC and Indonesia?
---
Commentary
Australian Public Opinion on the PRC: Complexities, Contradictions and Lessons for Policymakers
Australia-China Relations Institute, 17 July 2023
Whether you believe the Australian government should build stronger ties with the People's Republic of China (PRC) or take a harder line on the PRC, the recently released UTS:ACRI/BIDA Poll 2023 reveals that a majority of Australians agree with you.
---
Event
The Lowy Institute, 2 May 2023
Unpacking the findings of the 2023 Being Chinese in Australia: Public Opinion in Chinese Communities survey report.
---
Commentary
Australia's China illiteracy has dangerous consequences
East Asia Forum, 20 April 2023
Without an understanding of the social and cultural developments and the plurality of voices inside China, the danger is that Australians will only see the state and the Party and lose sight of the people.
---
Commentary
Media hype of war with China forgets the impact on Australian society
Guardian Australia, 9 March 2023
Fixation on conflict tends to exclude debate around costs, tradeoffs and social cohesion.
---
Commentary
Beijing and the birth rate: a question of human rights for women
the interpreter, 8 March 2023
Despite the government's gender positive rhetoric, Chinese women are still viewed as resources of the party state.
---
Commentary
Australia Needs to Think Beyond China About Data Security
Australian Outlook, 15 February 2023
The discussion on TikTok and Hikvision infiltration in Australian government departments has centred inarticulately and dogmatically on the country of origin. But there are other more realistic and probable security threats lurking in plain sight.
---
Commentary
Undue suspicion of Chinese Australian scientists slows progress
the interpreter, 13 January 2023
Clear guidance is needed on how national security is assessed in research and what are the boundaries of collaboration.
---
Commentary
Security focus is setting back science in both China and the U.S.
Nikkei Asia, 27 December 2022
PRC-born researchers are finding it more difficult to live and work in the two countries.
---
Commentary
Chinese nationalism under pressure
Inside Story, 6 December 2022
The PRC's zero-Covid strategy has tempered nationalist sentiment among young people as well as significantly changing their view of the party.
---
Policy Research Report
Winning hearts and minds: the PRC's efforts to attract scientific talent
December 2022
A detailed analysis of the domestic and international factors affecting the PRC's attempts to encourage the return of scientists from abroad.
---
Event
China Executive Briefing | China's Youth Under Pressure
Asia Society Australia, 29 November 2022
---
Commentary
Youth unemployment and a wealth exodus: Xi Jinping's real problems are at home
The Sydney Morning Herald, 9 November 2022
"[L]ooking ahead, the party will have to deal with the most challenging period for the country in decades, as a pervasive sense of pessimism envelopes people inside the People's Republic of China."
---
Event
Climate Targets, Floods and Taxes
Australian Broadcasting Corporation Q&A, 20 October 2022
---
Event
Interest, Values and the Rules-Based Order
Australian Institute of International Affairs NSW, 23 August 2022
---
Policy Research Report Launch Webinar
China's Antarctic ambitions and their implications for Australia
La Trobe Asia in collaboration with China Matters and the Australian Institute of International Affairs, 3 August 2022
---
Podcast
Getting China-Australia relations out of a rut
Ear to Asia, an Australia Institute podcast, 22 June 2022
---
Commentary
Australia's concerns about China's Antarctic activities are overblown
Australian Financial Review, 5 August 2022
As tensions rise over Taiwan, Antarctica could provide opportunities for co-operation
and a way for Canberra to stabilise the relationship.
---
Policy Research Report
China's Antarctic ambitions and their implications for Australia
August 2022
An in-depth analysis of China's activities, policies and ambitions in Antarctica and what they mean for Australia.
---
Previous Activities
Commentary: Labor government still has some big challenges with China (The Canberra Times, 28 June 2022)
Commentary: Lockdowns spark signs of defiance among China's restless youth (The Sydney Morning Herald, 24 June 2022)
Podcast: Getting China-Australia relations out of a rut (Ear to Asia, 22 June 2022)
Commentary: As the world sanctions Russia, China takes note (East Asia Forum, 30 May 2022)
Commentary: Rejuvenating DFAT: increasing diversity and becoming less insular (the interpreter, 24 May 2022)
Book chapter: Xinjiang: Sanctions, Boycotts, and Counterboycotts (The China Story Yearbook, May 2022)
Event: Rethinking China with Yun Jiang (5 May 2022)
Commentary: Common enemies and instinctive friends (the interpreter, 15 March 2022)