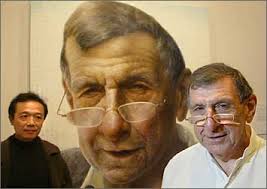 Board of Directors
Stephen FitzGerald began his professional career as a diplomat, studied Chinese and became a career China specialist. He was China adviser to Gough Whitlam, and Australia's first ambassador to the People's Republic of China and concurrently to the Democratic People's Republic of Korea. In 1980 he established the first private consultancy for Australians dealing with China, which continued until 2010. Since the late 1960s, Professor FitzGerald has worked for policy reform in Australia's relations with Asia, and for Asia Literacy for Australians. He chaired the 1980s committee of the Asian Studies Association of Australia on Asian Studies and Languages in Australian Education, and the government's Asian Studies Council, which in 1988 wrote A National Strategy for the Study of Asia in Australia. In the same year, he chaired the government's Committee to Advise on Australia's Immigration Policies, which wrote the landmark report, Immigration. A Commitment to Australia. He was head of the ANU's Department of Far Eastern History and also of its Contemporary China Centre in the 1970s. In 1990 he founded and until 2005 chaired the UNSW's Asia-Australia Institute, dedicated to making Australia part of the Asian region through think-tank activities and ideas-generation by regional leaders meeting in informal discussion.
Professor FitzGerald has been consultant to the Queensland and Northern Territory governments on the introduction of Asian languages to the school curriculum, consultant to Monash, Melbourne and Griffith universities on mainstreaming Asia in university studies, Chair of the Griffith Asia Institute, and Research Strategy Director of UTS's China Research Centre. He is currently a Fellow of the Australian Institute of International Affairs and a Honorary Fellow at the China Studies Centre at Sydney University. He has also been awarded two Honorary Doctorates from Macquarie University and the University of Tasmania.
He has published monographs, reports and articles on China, Asia, Australia's foreign policy and relations with China and Asia, Asia literacy, and the study of Asia and Asian languages in Australian schools and universities. His most recent publications are Comrade Ambassador: Whitlam's Beijing Envoy, The Coup that Laid the Fear of China, and Australia and China at Forty: Stretch of the Imagination. His current research is on the evolution of Australia's policies and attitudes towards Asia from the 1960s to the present.
Professor FitzGerald was made an Officer of the Order of Australia in January 1984 in recognition of his services to international relations. On 16 March 2017 Professor FitzGerald delivered the Whitlam Oration at the Whitlam Institute, Western Sydney University.