Why China Matters
China is important to Australia's future.
It is essential for Australia to get its relationship with China right.
While public discourse in Australia on China is increasingly lively, it is critical to Australia's future that it be better-informed.
Australians know that China is important to Australia, but many do not have a nuanced understanding of the reasons why nor do they fully appreciate the risks and opportunities involved in relations with China.
Read our new Policy Brief China Matters Recommends! 
Our goal
China Matters was established to stimulate a realistic and nuanced discussion of China among Australian business, government and the security establishment, and advance sound policy.
The goals of this high-profile and high-impact effort are to expand awareness and understanding, inform public and elite opinions, and recommend solid policy in Australia on the complexities, opportunities, and challenges of Australia's relationship with China. This is a discrete and unique effort, different from other China undertakings in Australia in that it is independent, is not tied to any institution, and is focused exclusively from a policy perspective on China's rise and how it matters to Australia.
China Matters board directors, advisory council and team members regularly publish commentary in Australian media which can be viewed on our public outreach page. Read Founding Director Linda Jakobson's essay "Time for a Plan B on living with China" in Disruptive Asia (Asia Society 2017).
China Matters Young Professionals project engages with people interested in China under the age of 35 who are working in the public or private sector. We just hosted our second YP national meeting in August. We also strive to support young aspiring Australian foreign policy experts through our three month internship program.
In March China Matters board director Professor Bates Gill and CEO Ms Linda Jakobson launched China Matters: Getting It Right for Australia, a book that explores Chinese politics, economics, and foreign relations today and their implications for Australia tomorrow.
China Matters Recommends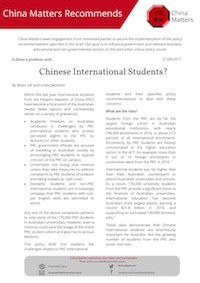 China Matters Recommends
is our new policy brief series that focuses on individual tough issues in Australia's relationship with the People's Republic of China. Our goal is to provide a nuanced assessment of the issue before specifying concrete recommendations to the Australian government, businesses and non-governmental institutions. In this inaugural policy brief, Dr Bates Gill and Ms Linda Jakobson address the question, 'Is there a problem with Chinese international students?', and suggest several measures that could be taken to mitigate risks related to the country's largest international student cohort.
Fifth National Meeting
The Fifth National Meeting was convened in Brisbane on 24 March 2017. Held in partnership with the University of Queensland, the meeting brought together senior figures from business, policy and academia for off-the-record discussions on Australia-China relations. Participants formulated policy recommendations for the Australian government on each of the section topics.
Mr Dennis Richardson AO, Secretary of the Department of Defence, delivered the keynote address at China Matters' welcoming dinner.
The three sessions focused on:
How should Australia shape its ties with China in an unpredictable era?
How should Australia prepare for a changed trade and investment landscape?
What should Australia do to meet the aspirations of Chinese international students?
---
Our Key Sponsors

---