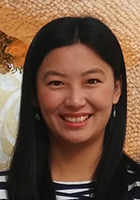 Advisory Council
Helen Dai is the Director of the Office of Deputy CEO, Global Client Services at the Australian Trade and Investment Commission. She has over a decade of experience serving in the federal government, including most recently as a foreign investment specialist at the Australian Treasury. Ms Dai started her public service career at the Department of Foreign Affairs and Trade and was posted as an Australian Consul to the Australian Embassy in Jakarta.
She was recently announced as one of the top five finalists for the Public Sector/Government category in the inaugural 40 under 40 Most Influential Asian Australian Awardee list.
Ms Dai completed her undergraduate degree of B.Commerce (Liberal Studies) majoring in Philosophy, Finance and Accounting at the University of Sydney and postgraduate degree of Master of Public Policy in Economic Policy at the Australian National University. She is a qualified CPA.