A new era of
Australia-China relations
is upon us, but Australians are
not ready.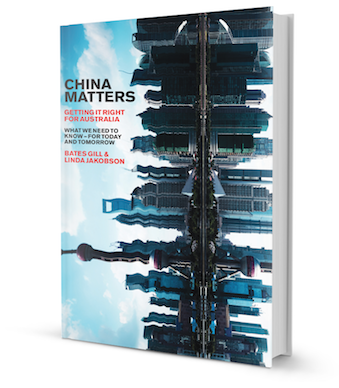 This book helps brace Australia for a tricky future with a great, rising power that we need to understand.
- Peter Hartcher
International Editor, Fairfax Media
Deeply knowledgeable, engagingly argued, and most importantly wise and balanced, this book should be read by all Australians who think seriously about their country's future.
- Michael Wesley
Dean, ANU College of Asia and Pacific
Australians must learn to live with China's power. This is simply the best all-round guide we have for how to do this.
- Hugh White
Best-selling author of "The China Choice"
China Matters: Getting it Right for Australia
Written in a colloquial, easy-to-access style, and firmly rooted in in-depth knowledge and research, China Matters focuses on Chinese politics, economics, and foreign relations today and their implications for Australia tomorrow.
China Matters asks and answers the big questions for Australia: What are the contradictions within Chinese society today? Can the Communist Party cope with the social and economic pressures ahead? Can China transition to a more sustainable growth path for the future? How does the Communist Party attempt to influence opinion and policy abroad? How will China use its growing economic and military might?
Written by Bates Gill and Linda Jakobson, two of China Matters' board directors who are among the world's foremost experts on Chinese affairs.
Click here for their bios.


The book also includes analysis of China's economic prospects by Arthur Kroeber, who is based in China and is one of the world's leading specialists on the Chinese economy.

Peter Hartcher, Sydney Morning Herald, 29 March 2017:
In his commentary on China's 'charm offensive' strategy, Hartcher highlights China Matters: Getting It Right for Australia as "an exceptionally useful new book" which "braces Australia for its Chinese future". By emphasising both the success of Australia-Chinese economic ties but also the growing danger of economic coercion that it brings, Hartcher classifies the book as "neither romantic nor rabid", which is reinforced by the book's argument that Australia should embrace China, but also simultaneously diversify its relations to include other regional and global partners. Read it here.

Paul Kelly, The Australian, 5 April 2017:
Paul Kelly the Editor-At-Large for The Australian compares Australia's foreign relations between China and the US stating "there's no need to trade US for China". Kelly draws many key elements from the book China Matters: Getting It Right for Australia and highlights that China is not currently posing a military threat, therefore we must incorporate further economic coercion. He concludes that the book's "narrative that Australia must think bigger with China is surely correct". Read it here.

Paul Monk, The Australian, 24 June 2017:
Paul Monk, former head of the China Desk at the DIO, reviews three books which have enlivened the debate on the rise of China, including China Matters: Getting It Right for Australia. Of the books reviewed, Monk states that "From the Australian perspective, (China Matters is) the most useful". Monk thoughtfully examines some of the key recommendations put forward in the book, outlines some of the potential challenges involved, and offers his own counter-suggestions. Read it here.
ABC presenter Tom Switzer grilled Bates Gill and Linda Jakobson about Australia-China ties and the book on his Radio National program 'Sunday Extra' (26 March 2017).

Linda Jakobson and Bates Gill discussed the book with David Speers on SKY television (28 March 2017).

Sky Business producer Carson Scott questioned the authors in a TV interview about Australia's economic ties with China (29 March 2017).

Bates Gill and Linda Jakobson published an excerpt from the book in The Australian on Australia's need to reshape its links with China (1 April 2017).

The authors discussed the book with AIIA Director of Communications Annabel McGilvray in an interview at AIIA NSW (29 August 2017).
Balmain Library Book Event

Balmain Library launches China Matters: Getting it Right for Australia. Authors Bates Gill and Linda Jakobson will be signing copies at the event.

Wednesday 10 May 2017, 6.00pm

Balmain Library, 370 Darling St, Balmain, NSW, 2041
Official Book Launch (Sydney)

The official launch of the book was held on Wednesday, 29 March 2017, in Sydney and was co-hosted by China Matters, La Trobe University Press and PwC. The event took place at PwC, located in Barangaroo. It featured renowned journalist, Geraldine Doogue AO, in conversation with the authors, Bates Gill and Linda Jakobson and special guest Arthur Kroeber, with opening remarks made by Andrew Parker, PwC and China Matters.
Book Launch (Melbourne)

The Melbourne book launch on Thursday, 30 March 2017, was co-hosted by China Matters, La Trobe Asia and La Trobe University Press. It was held at the State Library of Victoria. The event was launched by The Hon Peter Costello AC, followed by an 'in conversation' panel with veteran journalist Jim Middleton interviewing the authors, Bates Gill and Linda Jakobson, and special guest Arthur Kroeber. The event was sponsored by MMG.
Book Launch (Canberra)

The Canberra book launch on Tuesday, 4 April 2017, was co-hosted by the ANU/Canberra Times 'Meet the Author' series, the ANU Coral Bell School of Asia and Pacific Affairs, and China Matters. Mr Paul Kelly, editor-at-large, The Australian newspaper, probed the authors on the role of China in Australian society and the economic challenges facing the Australia-China relationship.